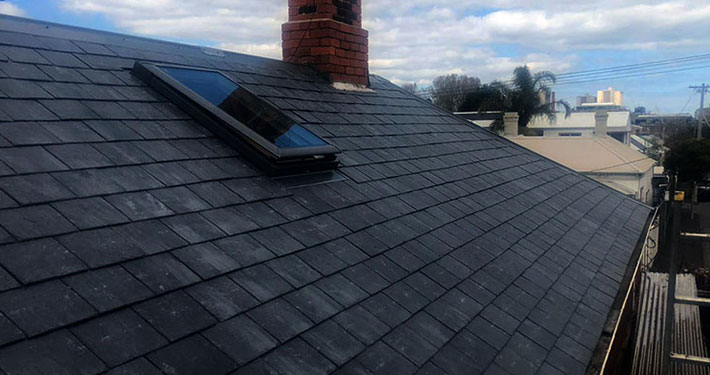 Slate roof tiles Melbourne
For over thirty years the expert team at Slate Roof Specialists have been installing beautiful and durable slate roof tiles for Melbourne homes. Our company founder is trained for advanced crafts, tiling and the traditional practices of slate roof installation and repairs, and now uses that knowledge to both restore original period homes and install slate roofing on new buildings.
Slate has proved such an enduring roofing material because its natural benefits are matched by its natural beauty. Slate is naturally fire-resistant – a huge advantage for Australian homes, but also tough enough to withstand extremes of heat and cold, a must for Melbourne's challenging and ever-changing climate.
Slate vs concrete roof tiles
When weighing up the relative merits of concrete versus slate roof tiles, Melbourne homeowners will benefit from talking to expert roofers who work with both materials. Both options are hardwearing and practical, and although concrete lacks the unique beauty and colour variations of a natural material such as slate, concrete tiles can be customised to imitate a slate or clay tile roof.
Though slate roofing has a higher initial cost than other roofing materials, its extreme longevity and the value it adds to your property often mean this is a very worthwhile investment over the long-term. If your current circumstances mean that now is not the right time to make such an investment, then concrete roof tiles may be the right choice for you. Here at Slate Roof Specialists we always strive to meet the requirements of your budget with quality roofing materials, installations and repairs.